Orbitrim Trimmer Head Review: Does it Work?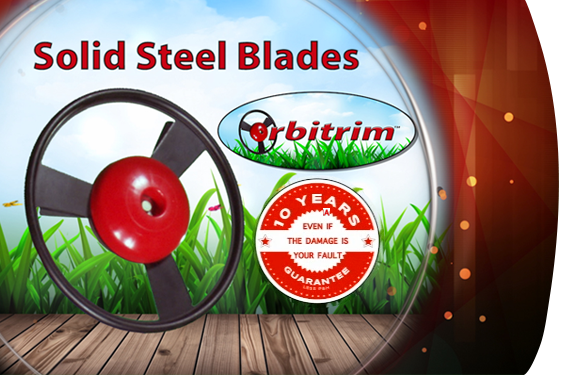 Positives
• Safety ring
• Blades can be sharpened
• Effectively trims while protecting delicate plants
• Adapters to fit most trimmers
Negatives
• Edging may feel awkward.
Bottom Line
Overall, we think Orbitrim is a fine product and competitively priced. It is durable and far superior to string trimming. The value of the safety ring cannot be overstated, as it allows for more precise trimming while protecting valuable and delicate foliage in your yard.
Sponsored Links




Orbitrim Gas Trimmer Head
Orbitrim Gas Trimmer is a string-free and wire-free gas trimmer head that works with almost every trimmer. Read our Orbitrim review.
Sponsored Links




Claims & Features
Attaches easily
Compatible with 32 different trimmer brands
Patent-pending safety ring protects flowers
Perfect for mowing, trimming, and edging
Curved bottom creates an even cut
Great for hedges
Cost & Availability
You can buy Orbitrim from the official website. The Orbitrim TV Offer is $19.95 + $6.95 P&H – Carbon Steel blades; Deluxe Orbitrim: $24.95 + $6.95 P&H – Stainless Steel blades; 4 Deluxe Orbitrim Blades: $70.00 + Free Shipping – Stainless Steel blades
We have also spotted this product at a few online vendors for around $20-$25. It has also recently been featured on HSN for about $25.
Orbitrim Gas Trimmer Commercial
Below is a transcript of the commercial that ran for Orbitrim in 2016:
Does your grass need to be trimmed again? But look out! String head grass trimmers can wipe out your flowers and make a mess!

Hi, I'm Steve Harkey, and this is Orbitrim, the first true innovation in grass trimming in years because it doesn't use strings or wires. The solid steel blade lets you trim and edge your grass just that easy. And attaches to most gas trimmers in seconds, while its patent-pending safety ring protects your flowers and trees.

No more accidental mistakes and no more chopped up grass! Look, the curved bottom lets you float over your grass with a perfect, even cut, trim right up to the trees, and edge around walkways with ease. Even get right into your flower beds. And it's the choice of landscaping professionals!

"When we were first asked to try Orbitrim, I was quite skeptical, but my guys gave it a try, and they absolutely love it! Orbitrim is such an amazing piece of equipment. It helps you eliminate both edger, weed whacker, and your hedge trimmer. I love it 'cause it saves me money, and my guys really love it because it saves some time."

We did this entire yard in less than five minutes. Even the most overgrown grass isn't a challenge for Orbitrim!

So whether you're mowing your lawn, trimming your bushes, or edging your walkways, you'll get perfect results every time! So stop wasting your money on trimmer heads that get tangled and tear apart your yard, when you can get your Orbitrim with solid steel blades that are guaranteed for ten years for only $19.95.

That's right. If you can ever damage it, we'll replace it free! It's the last grass trimmer head you'll ever buy, and it's guaranteed to fit your trimmer. Orbitrim is the perfect solution for the perfect yard. Here's how to get yours.
Orbitrim Review
When we first caught wind of Orbitrim, we thought it sounded like it might be a weight loss supplement, but obviously this product is far from that. This is a heavy-duty gas trimmer head made with stainless steel blades. It includes a safety ring around the edges which helps prevent damaging flowers, trees, or other delicate foliage in your yard.
While a description of the product may gloss over the safety ring, that is one of the most compelling reasons to consider Orbitrim. With the ring in place, you can safety trim grass and weeds around delicate plants and flowers without cutting them. This means that anything you want to trim must enter the bladed area from underneath. If you have tall weeds, for example, you won't be able to slice them down at ground-level, especially if delicate plants are nearby.
Sponsored Links



Perhaps another added benefit of the safety ring (also referred to as a safety rim in some commentary) is that it allows you to more easily see the diameter of your trimming area. Most trimming heads – especially those using string – become less visible as they spin quickly, but the safety ring does not "disappear" from sight as the unit is in operation, allowing you to easily see the diameter of your trimming head.
The blades are quite sharp, and arrive wrapped in a plastic material to prevent you from cutting yourself. You may want to attach the head to your trimmer before removing the safety wrap around the blades. The blades won't need to be sharpened at first, although if they do become dull you can sharpen them as you would any knives.
Edging and precise trimming against objects may not be as effective, depending on your circumstances and use. As you can see from the screenshot below in the HSN video featuring Orbitrim, some of the grass around the pole in the yard was not trimmed due to the safety ring. This of course could be a desired outcome if you are worried about protecting the wood pole, or it could be a nuisance if you have lots of areas in your yard where this type of limitation presents itself.
The examples shown in advertising and on HSN make edging look problem-free, however if there is no existing gap between the grass and the edge, then you may not be able to get the blades far enough down to cut it properly.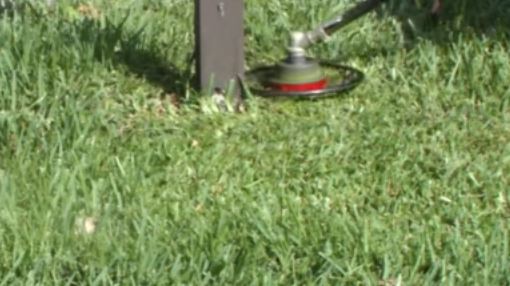 That said, Orbitrim generally works quite well, and does handle many of the tasks shown in the commercial as you would expect. You can trim hedges, sections of grass, and around delicate areas with ease. The safety ring opens up a surprising number of uses that you may think twice about when holding a regular trimmer or even a stainless steel head with no safety ring.
Orbitrim is ideal for a wide variety of trimming, edging, and even small mowing jobs. If you have a small patch of grass, it may be easier to cut it with this trimmer head than using a lawnmower.
The most obvious question is if Orbitrim will fit with your existing trimmer. The manufacturer claims that it is compatible with 99% of all trimmers, and this is made possible by the inclusion of a number of adapters which should allow you to fit it to your trimmer. It works with straight-shaft or curved-shaft trimmers.
In addition to its sturdy design, you are able to trim your yard without having to deal with changing trimmer line, which should make the task easier to complete.
Orbitrim was first advertised in mid-2015, but disappeared during the Winter. In Spring 2016 it has reappeared in earnest. It was featured on HSN in early 2016 and has continued to advertise heavily online ever since.
The initial advertising push, which was likely just a test marketing phase, was met with a few customer complaints that shipping was delayed. This is common with new products, and slow shipping no longer seems to be a problem in 2016.
Similar Products
There are a number of products which could be categorized alongside Orbitrim. WeedShark is one example, as is Grass Gator. Both of those are advertised similarly to that of Orbitrim. Both of those products hold about a 3.5 to 4.5 star rating among hundreds of consumer reviews. Those trimmer heads, however, don't feature the safety ring found on Orbitrim.
Epic Conclusion
Overall, we think Orbitrim is a fine product and competitively priced. It is durable and far superior to string trimming. The value of the safety ring cannot be overstated, as it allows for more precise trimming while protecting valuable and delicate foliage in your yard.
Have you tried Orbitrim Gas Trimmer? Please give it a star rating and comment below.