Jewel of the Seas Review and Tips for 2015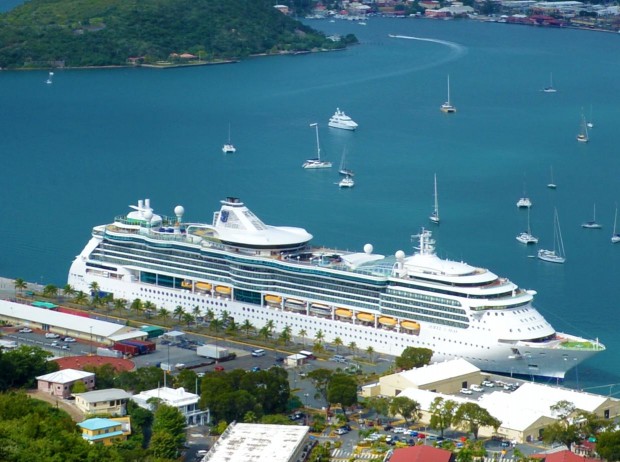 Positives
• Above average food choices, variety, and quality, particularly Chops steakhouse.
• Excellent staff.
• Wide variety of free shows and activities.
Negatives
• Some ports are uninteresting.
• Expensive drink packages, internet access, and excursions.
Bottom Line
Jewel of the Seas is large enough to offer a wide variety of activities and amenities, but not so large that it is overwhelming or becomes a chore to traverse.
Today I offer my experience with the Royal Caribbean Cruise Lines (RCCL) ship Jewel of the Seas after a 7 day Eastern Caribbean cruise in 2015.

Sponsored Links




While I understand that every traveler's experience is unique, I hope that the details of my experience shared here may be of some benefit to those seeking to take this cruise, and hopefully might provide a little insight from a first-time RCCL traveler's perspective.
Embarkation: San Juan, Puerto Rico
The embarkation process was relatively simple. Although I had received messages all week telling me that my check in time would be 2pm, I arrived early (just before 1pm) and they were already letting everyone on the ship. We handed our main bag to a porter, went through security, and waited in line for our Sea Passes. The line took about 10-15 minutes. From there, we went up a couple of flights of stairs – showing our Sea Passes at least two more times – and entered the ship. The entire embarkation was less than 30 minutes.
Note: The short cab ride from Old San Juan to the port was $17. Ask your hotel if there is a shuttle available.
Stateroom
I stayed in stateroom 9660, which is an aft (back of the ship) balcony stateroom. When I booked the room 9 months in advance (April 2014), it was the only aft balcony room which had not already been reserved at that time. On board, I spoke with another aft passenger, who said that he had recently booked his aft balcony stateroom, so it's likely that some of those earlier reservations for aft staterooms were later canceled.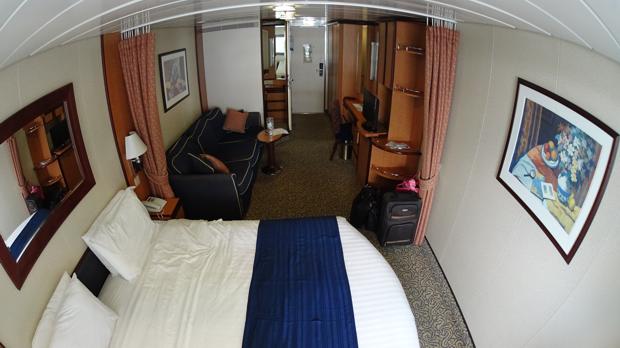 The stateroom itself is standard, with a closet, vanity, TV, double bed, and couch. The TV in my stateroom was a flat screen HDTV around 19 inches in size. I noticed some staterooms still had the old style box TV sets. The few times I watched television in my stateroom, I noticed that there were no commercials on some of the channels. Channels were available in several languages. There are two US-style power outlets at the vanity, along with one European style outlet. In the bathroom, there is an outlet marked 115v and 230v labeled "Razors Only." A hair dryer can be found in one of the vanity drawers. There is a mini-bar with a few drinks and snacks, which range from about $4 to $5 each. The video below gives a quick tour of my stateroom.
The headboard includes lamps on either side, with each lamp including a smaller adjustable reading light. Some cruisers swear by aft staterooms, while others avoid them. I was warned by some cruisers to avoid the aft because I would feel the motion of the ship more than in the center. I didn't feel this to be the case, however. The most common motion I felt was side to side, not front to back. This will certainly vary from cruise to cruise, but in my experience the motion in the aft stateroom didn't seem unusual or unbearable.
The balconies on aft staterooms are larger than the standard balcony. Our balcony had two lawn chairs, two regular chairs, and a table. Standard balcony staterooms don't have the extra lawn chairs. The balcony is approximately 10 feet wide by about 13 feet deep. Another advantage of the aft stateroom is that you can look to either side of the ship at any time, which was especially helpful while in port. I should also point out that you must step over the door frame to walk through the balcony door. It would be easy to forget this and trip (as I almost did) the first time.
Bathroom
The bathroom is small but sufficient. The shower head is a handle-type, which rests lower than you may expect from the standard bathroom shower head, approximately 5 feet off the floor. The water from the shower was instantly warm, and I actually found I had to lower the temperature considerably to make it comfortable. There is a shampoo dispenser in the shower, and bar of soap is provided. There is no conditioner. The toilet sits higher off the ground than standard toilets, which takes some getting used to. There is a small corner medicine cabinet, and there is no bathroom fan.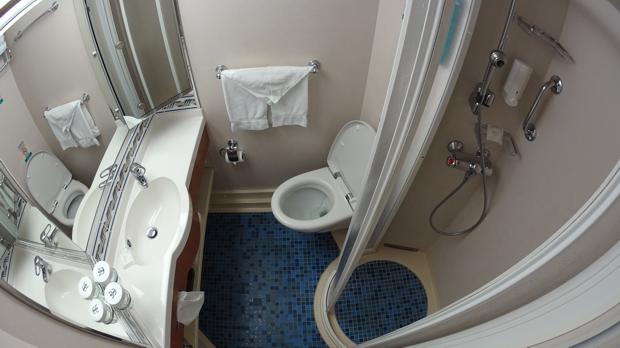 Phone & Internet
You can purchase internet access while on board, but it isn't cheap. The most expensive package is unlimited access for two devices for about $230 for the week. Unlimited access for only one device is about $200. Single-day unlimited access is about $60, while a one-hour package is about $30. For obvious reasons, I – along with most passengers – chose not to use the ship's internet access. Unless you have an international phone package, I highly recommend leaving your phone off for the duration of the trip. You may want to call your carrier and request that no international data access be allowed. Turning "data roaming" on your phone off may also help. I called AT&T and made this arrangement prior to my trip, but upon my return I found that I had nearly $300 in international data roaming – for a mere 15 meg of data. Fortunately, because I specifically called to turn off international data, AT&T saw that I had called and removed the charge. But $284 for 15 meg shows how severe international data roaming can be. In my case, one of my phones was left on and – even though data was turned off – somehow still connected to an international tower while at sea.
Sponsored Links



I did notice that while passing by the U.S. Virgin Islands, I was able to grab a signal and connect to a U.S. tower and access the internet with my normal data plan. I had access for about an hour, and we weren't particularly close to the island.
ATM
There is an ATM available on deck 4, next to the Guest Relations desk. There is a $6 fee to withdraw cash, so you may want to minimize how many times you use it.
Shopping
There are duty-free shops on board, which open after the ship leaves port. Some nights they had sales which attracted throngs of people. Most of the sale items consisted of jewelry, handbags, and designer sunglasses. There is a small general store, which offers a small selection of most necessities, such as pain relief or toiletries, along with t-shirts, candy, and gifts. You can also find an assortment of items for sale on board, ranging from alcohol to GoPros. This store is not open 24 hours, so if you think you may need something, it may be wise not to wait.
Dining
There is no shortage of dining options on board, with a buffet/cafe, dining room, two specialty restaurants, and various snack stations throughout the ship. The dining rooms are all equipped with automatic hand sanitizer dispensers, and guests are encouraged to use these before entering the dining areas.
Tides Dining Room
The main dining room is Tides, which offers a menu consisting of an appetizer, main course, and dessert. I ate at Tides most nights, and found the food to be quite good. One night I had a main course which I found to be sub-par, but most nights I found dishes such as salmon and steak to be very nicely prepared. Although I was signed up for "My Time Dining" I still called ahead to make a reservation just in case. I was typically one of the first in the dining room, which didn't seem to get busy until closer to 7pm each night.
Windjammer Cafe
Although called a "cafe," it is probably better to describe Windjammer as a buffet. Here you'll find standard buffet fare, starting with breakfast. It is not open 24 hours a day, and there are even times throughout the day where you will find it closed. The food ranges from OK to quite good, and there are different themes, such as "Asian Cuisine." There are two dessert areas, one with cakes and cookies, and another with frozen yogurt. It was common to see guests walking around the ship with an ice cream cone in their hands as they left the Windjammer.
Other Dining
You can find an assortment of small snack stations throughout the ship, such as the one at the Solarium, which offers pizza and sandwiches. There is, of course, room service, which is available 24 hours a day – although a $3.95 charge is assessed if you order after midnight until the next morning. You can also fill out a breakfast card and have food delivered at a designated time. The mornings I used the cards, I was called about 5 minutes before my food arrived.
Chops and Portofino
Chops is the ship's steakhouse, which costs an extra $30 per person, while Portofino is an Italian restaurant that costs $20 per person. Both are much smaller and more intimate than the main dining room, and they suggest giving yourself two hours to experience dining at each. The waiters explained that this is because food is made to order. If you dine at both restaurants, you'll receive a discount of around 15%. I enjoyed my meals at both, but the consensus from other passengers and even workers on the ship is that Chops is probably the better choice if you only wanted to pick one. I had one of the better filet mignons I've had in recent memory, and the scalloped parmesean potatoes were surprisingly good. My experience at both restaurants were memorable, and if I return to Jewel of the Seas, I will probably dine at both again. I purchased dinners at Chops and Portofino months before the cruise, and made reservations for the nights I thought I would prefer. In one case, this worked out well, but in another case, I had wished I had made my reservation for a different night. The staff was helpful and allowed me to get in an hour before my actual reservation, so they do seem pretty willing to work with you.
Dress Code
Each night has a different "suggested" dress code, such as smart-casual, casual, or formal. For "formal" night, for example, women are suggested to wear formal dresses or cocktail dresses, while it is suggested that men were suits and ties or tuxedos. While most women had dresses, not all men brought jackets and ties on board, so the dress code is merely a suggestion and not a requirement. I believe Chops and Portofino do have a minimum dress code, and don't allow flip flops, tank tops, or swimwear.
Drink Packages
I purchased the Royal Replenish package, because I didn't think I could break even on the higher-priced alcohol drink packages available. Unlike my experience on Carnival Imagination, where you had to sign (and felt obligated to tip) for every soda, on Jewel of the Seas, you simply show you card to a bartender, or use the soda vending machine located in the Windjammer Cafe (near the desserts) using the cups provided as part of your package. I typically opted for the latter. With the Royal Replenish package, you can also get virgin mixed drinks for no charge.
Pool and Solarium
The nerve center of the ship, at least in the daytime, is topside at the pool and the Solarium. The Solarium is an an adult-only pool (signs stated that it was ages 16 and older) and hot tub area, with a glass roof which is sometimes retracted, and other times closed in order to regulate the temperature. The main pool area has bars on both upper and lower decks, while the Solarium hosts a bar of its own. Both areas seemed to fill up equally, meaning that it was usually either crowded in both or empty in both areas. There is a running track around the upper level of the pool area. There is one hot tub in the Solarium, and two at the main pool.
The lawn chairs at the Solarium are padded, while those at the pool are not. I found the Solarium to usually be cooler than the pool area, although on one occasion people were leaving because it was so hot and humid.
Kids Pool, Slide, and Mini Golf
I didn't participate in any kids activities or access any kids areas, but I did see that the outdoor areas had limited hours. The slide and rock climbing wall, for example, were only open for about 2 hours a day. Although there are activities for kids on board, Jewel seemed to have an older overall demographic than ships such as Carnival. While Jewel of the Seas has a miniature golf course, it seemed to be underutilized whenever I was in the vicinity. I rarely saw it in use, although it was well-maintained and sported a panoramic view.
Laundry
There are laundry services available. It costs about $2 per piece, or they have a another option in which you can fill a bag and have all of the items within washed, dried, and folded for $30. The size of the bag is roughly the size of a plastic shopping bag. We were able to fit over 30 pieces in the bag, primarily socks and underwear. The clothes took about 24 hours, and came back very nicely washed and folded.
Shows
There are shows in the Coral Theater every night at 7pm and 9pm. The shows were different each night that I attended, and offered a variety of performances. During my cruise, I saw an impressionist, an dance performance, and a Beatles tribute. There are, of course, house bands which play on Deck 4 every night.
Demographics
Jewel of the Seas seemed to host a somewhat older crowd, and the ship is significantly slower-paced in the late night hours than on other ships. Most nights the pool area was almost completely empty by 9pm. Many of the passengers were friendly and struck up conversations, but there was a certain segment which seemed somewhat less friendly. Those people seemed to want to seclude themselves and avoid social settings. Most of the people I met on board were from the Eastern part of the United States.
Staff
The staff was well-trained, and I was greeted by almost every employee I passed as I walked around the ship. My attendant helped me on several occasions, and tended to my room twice a day. I never ran out of towels or supplies. The waiters in Tides actually remembered our names and details from prior conversations we had.
Ports and Exursions
The itinerary of the Eastern Caribbean cruise was as follows:
I discussed the ports with many seasoned travelers on board, and there seemed to be some disappointment with the itinerary. The general consensus from the people I spoke with on this cruise was that Saint Martin and Aruba were far superior to any of the ports we visited.
Many of the passengers purchased excursions through Royal Caribbean, and in comparing prices, it seems that they are quite expensive. I did my homework months ahead of time and reserved a couple of excursions directly with the tour guides, which was probably about 50% less expensive than those offered by RCCL. Of course, excursions offered via the cruise line have certain guarantees, but there are many non-RCCL excursions which are professionally operated and well rated on sites like TripAdvisor and Cruise Critic.
Final Thoughts
Most of the review above was written while on the ship. Months later I am reflecting back on my time on Jewel of the Seas, and have nothing but fond memories. I loved sitting in a secluded corner of the Windjammer with my wife while having a snack, stargazing from our balcony lawn chairs at night, and walking through the ship in our best clothes after a nice meal. I probably enjoyed the ship itself more than most of the ports. Perhaps the best summary of Jewel was relayed to me by a woman on her 60th cruise, and who expressed satisfaction with the size of the ship (I'm paraphrasing):
Jewel of the Seas is large enough to offer a wide variety of activities and amenities, but not so large that it is overwhelming or becomes a chore to traverse. Have you been on Jewel of the Seas? Tell me what you thought of it.