Carnival Imagination Review: Ensenada Cruise 2014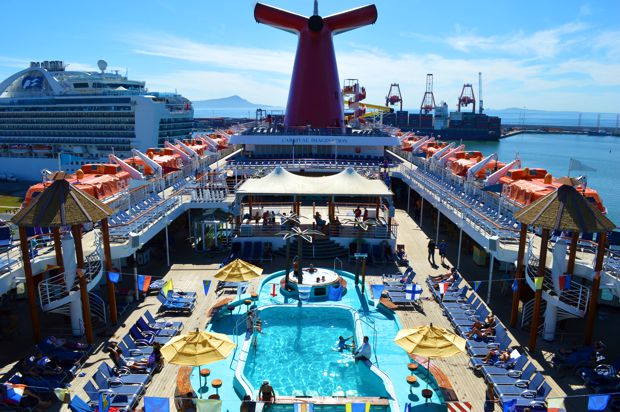 Positives
• Quick embarkation
• Excellent staff
• Quality dining options
• Ample entertainment choices
• Serenity adult-only area
• Offers short cruises for competitive prices
Negatives
• Expensive drink options
• Soda must be signed for
• Small pool
• Not as many amenities as larger ships
• Ensenada isn't a particularly good port
• Limited after-hours dining options
• Debarkation took hours
Bottom Line
For the price and level of service, Carnival Imagination is a great value. While I've seen occasional scorn for Carnival for a variety of reasons on cruise forums (such as too many kids or having older ships), none of those concerns I read prior to my cruise came to fruition from my perspective. My wife and I had a memorable trip and agreed to sail on Imagination again in the future.
About Carnival Imagination
Today I offer my extensive review of the Carnival Cruise ship Imagination after a 3-day cruise to Ensenada, Mexico in October 2014.
Sponsored Links




Carnival Imagination is a cruise ship which takes short trips to Ensenada, Mexico from the port in Long Beach, right next to the Queen Mary. It also sometimes adds a fourth day to stop at Catalina Island, although my review below does not cover the 4-day itinerary. The ship is 855 feet long and holds over 2000 passengers and over 900 crew members.
Some of the notable features of Imagination include the pool, four hot tubs, miniature golf course, nightclub, restaurants, bars, and special areas for kids.
Below is a breakdown of Imagination by category, along with my personal observations.
Embarkation
Getting on the ship ("embarkation") is a rather quick affair (much faster than debarkation). I parked in the parking garage, dropped off my large suitcase to a porter, and was directed to the sign-in location. Here you'll show your passports, go through security, and check in. At check in you'll be given your Sign & Sail card (see below). From here you'll walk across the gangway and enter the ship. On embarkation and debarkation days, Carnival places crew members in red shirts with the words "Ask Me" in strategic locations. This was useful in being directed where to find my cabin.
Cabin
My cabin was in the Main Deck (Deck 5) and had a porthole view. Aside from the window type, this cabin is the same as regular ocean view or interior cabins. It features a window, king size bed (or two twins if requested), bathroom, three-panel closet, vanity, TV, and chair.
The porthole view underwhelming, only offering a glimpse of the outside world, but it may be sufficient to stave off claustrophobic sensations in some passengers.
Decks
Decks 4 through 12 can be accessed via the central elevators, but only decks 7 through 14 have public areas with things to do. There is no deck 13 (so, technically Deck 14 is really Deck 13). All of the decks are referred to either by a number or a name, thus "Deck 10," for example, is also referred to as "Lido." Below is a deck-by-deck breakdown of Imagination along with my observations.
Deck 14: Sun Deck
This deck is not accessible via elevator, but it offers the highest vantage point from Imagination. Here you can find the "City Sports Park" which features a jogging track, miniature golf course, and row of deck chairs overlooking the pool.
Below is a video walking around the jogging track of Deck 14. It was taken while the ship was at Ensenada, so the vessel was quite empty at the time.
Deck 12: Sports Deck
This deck is split into two sections on each end of the ship. The aft section of Deck 12 provides access to two water slides and a semi-circular row of lounge chairs with ocean and pool views. The other section features the fitness center and spa. It is also the highest point at which you can stand inside and view the atrium.
Below is a video showing a walk around the aft section of Deck 12, along with a view from the atrium on this level.
Deck 11: Verandah
The Verandah deck offers access to the kids' water park Waterworks, plus views of the pool, the kids area Camp Carnival, ping pong, and chess. Most of this deck consists of walkways overlooking the pool.
Deck 10: Lido
Lido is often referred to as the "pool deck," and is perhaps the most popular area during the daytime. It's here you'll find the pool, dance floor/stage, the outdoor buffet and Horizon Bar & Grill, and two hot tubs.
By 10pm most nights the pool area was largely empty, aside from a few guests soaking in the hot tubs. During the day, however, Lido is a happening pool party – especially during the at-sea day when all passengers are on board.
While in port at Ensenada the deck was relatively calm. The following day, which was an at-sea day, it was quite lively.
Deck 9: Promenade
While most guests congregate around the pool during the day, it's the Promenade which invites more activity at night. Here you'll find the casino, Illusions Dance Club, Dynasty Show Lounge, Shangri La Lounge, Xanadu Lounge, and the adult-only area called Serenity.
The Xanadu Lounge is also referred to as the Punchliner Comedy Club, and features both all-ages and adult-only comedy. During my cruise, "Smiley" Joe Wiley was a featured comedian, and he brought the house down, eliciting continuous roars from the packed house.
There were times that accessing Serenity proved to be a challenge, as the decks were sometimes closed for "beautification" and guests in bathing suits are discouraged from walking through the Horizon Bar & Grill. Once I made my way to Serenity, however, I found it to be a nice break from the party atmosphere found mid-ship on Lido deck. With two hot tubs and several rows of chairs, Serenity is calm and sparsely populated retreat.
Deck 8: Atlantic
This is another deck which tends to invite the nighttime crowd, featuring restaurants, gift shops, piano bar, and library. Photos taken of guests during the cruise are also posted here, and toward the end of the cruise, you'll find this section filled with people searching for photos of themselves.
The piano bar doesn't actually have a bar, but there are waiters who will take your order.
Deck 7: Empress
There isn't much on Deck 7, other than a bar, art gallery, and guest services. It does, however, become a visual focal point for those watching from higher decks above in the atrium. Next to the bar you'll usually find a musician performing soft music. On either side of the bar is a double staircase leading up to deck 8. On debarkation day, this deck was quite crowded, with lines of guests waiting to leave, along with those requiring guest services.
Crew
Throughout my three days on Imagination, I found the crew to be pleasant, greeting me with a smile at every turn. I was surprised that several of them remembered my name, which is a very nice touch and evidence of good training. My steward was always there when I needed something, and went out of his way to assist when I needed a corkscrew, and opened my bottle of wine himself. On my final night, a bartender who I had ordered from on my first night noted that he remembered me and described our first meeting in detail.
There seemed to be crew members cleaning parts of the ship at all times, and only on occasion did they seem to fall behind in picking up the endless stream of plates left behind around the tables in the pool area.
Tipping
Gratuities are automatically charged to your Sign & Sail account, and amount to about $12 per person per day. For a three day cruise for two people, this amounts to about $72. For exceptional service, I often provided an additional tip.
Sign & Sail
Your Sign & Sail card works as your room key, your ID, and your credit card. You'll use it to enter your room, identify yourself when getting on or off the ship, and to make purchases on board. It also includes information such as which drill station you are assigned to, and the type of dining you chose. If you purchase one of the beverage packages, there will be a sticker denoting this on the card as well.
Food and Drink
Pride Dining
A majority of guests appeared to dine in the Pride Dining room during "Your Time Dining" which means you can show up anytime between 5:45 and 9:30 pm. I showed up each night right at 5:45 to avoid the line which tended to form a little later. Guests are encouraged to dress in "cruise elegant" attire, with such casual items as flip flops and sleeveless shirts forbidden. On my final night, I asked to be seated by a window, since I had not had such a luxury on my previous two nights, and I was obliged.
The menu includes an appetizer, main course, side, and dessert. Unlike some cruise lines, this restaurant does not seat you with another group, although tables are quite close together and it is easy to strike up a conversation with the group next to you.
Sponsored Links



During dinner, there is a "show" in which most of the staff stops and dances to a song. I couldn't help but wonder if this was a coy attempt to allow the chefs to get caught up with the initial flood of orders. A couple sitting next to me was about to order when the show began, and had to wait until it was over to order. The woman complained to her husband, "I didn't come here for this." Many diners, however, could be seen dancing with the waiters during the show.
I found the food at Pride to be of good quality, and the service to be acceptable based on the number of customers. My dinners lasted from about 5:45 until 7:00 or 7:15. The dinners at Pride Dining are among my fondest memories of my Imagination cruise.
Lido Deck Dining
The outdoor buffet offers an assortment of quick foods such as chicken tenders, mashed potatoes, hot dogs, chips, and a few desserts. It is a convenient way to grab a quick meal while lounging by the pool. There is also a drink dispenser offering ice tea, juice, and lemonade. Cartons of milk and chocolate milk are also available here.
Just inside the doors by the buffet is the Horizon Bar & Grill. To me, however, this just felt like an extension of the outdoor buffet. There are various stations which have meats, cheeses, fruits, and desserts. In the back of the Horizon Bar & Grill is the "Pizza Pirate," and this is the only food location which remains open 24 hours. Also at the back of the Horizon Bar & Grill is a bar and access to aft decks.
Continental Breakfast
Each room comes with door hangers for you to select your daily continental breakfast. You can choose the items and quantities you want, along with a time window in which you would like it to be served. On all three mornings, my breakfast arrived promptly within my time window. On the second day, I was missing one item I had checked, but otherwise they did a great job. It was a very convenient way to start the day, and better (to me) than stumbling up to the Lido deck to get something to eat upon waking up.
Unlimited Alcohol & Soda
The "Cheers" beverage program is largely touted as "unlimited" alcohol, and for most guests this is accurate. It is, however, not truly unlimited, as there is a 15 drink limit on the package. Sodas are also included, and are truly unlimited. You must purchase this program for the entire duration of your cruise. On a 3-day trip, this amounts to $189.75, or $63.26 per day with gratuities added. This amounts to about 10 domestic beers, 7 martinis, or 5 mixed drinks each day. I knew my consumption would not exceed this, so I opted not to purchase this package.
The "bottomless bubbles" soda package costs adults $6 per day, which on a three-day cruise amounts to about $20 per person. As sodas cost $1.95 each, I felt it was easy to justify this expense. There are, however, some caveats. Whereas accessing lemonade, juice, or ice tea is as easy as walking up to a drink dispenser, the same cannot be said for accessing soda. This must be done via a bartender, who must take your Sign & Sail card, fill your drink, print a receipt, and have you sign for it. On busy days, this became more of a hassle than it was worth and I didn't use the bottomless bubbles program as often as I would if it were more of a self-serve option.
I should note here that it took some effort on my part to discover where to purchase these beverage packages. I asked at check-in, and was told that I could purchase them on the ship. When on the ship, I was told I could purchase it at any bar. When I asked a bartender, he told me I had to do it at another bar. Eventually I was pointed to two stands near the pool, one selling the "Cheers" package and the other selling the "bottomless bubbles" package.
Upon purchasing, I was asked if I wanted to purchased a Carnival tumbler for $5, so I took the bait. Oddly, whenever I filled the tumbler with soda, I was charged a 14-cent fee. When I didn't use the tumbler, there was no fee.
After-Hours Dining
This is one area I felt had room for improvement, with only pizza, ice cream, and room service available after hours. Those options don't really allow for a light snack late at night while taking a stroll.
Debarkation
On debarkation day, all guests must be out of their staterooms by 8:30am, and wait on decks 9 or 10 until their deck or zone is called. If you opt to carry all of your luggage ("Self-Assist"), you can depart a little earlier than if you choose the "Relaxed Debarkation" in which your luggage is taken to baggage claim for you. Keep in mind that if you choose the "relaxed" option, you must place your bags outside of your stateroom by 11pm the evening prior.
My debarkation was slightly delayed because they did not receive "clearance" as early as expected. Passengers are called by deck (self-assist) and then zone (relaxed). I was in Zone 15, so I was not called until almost 11am (my expected time was between 10:15 and 10:30am). Lines for the first few groups appeared very long, but when my zone was called, I had no line. When it was my turn turn to leave the ship, I had to show my Sign & Sail card to exit onto the gangway. I then stood in line as I went through security, where I had to show my passport and hand in customs form. The line is divided into U.S. citizens, and non-U.S. citizens. The latter appeared to have a much slower line.
The final stop on debarkation for me was to pick up my bag, which was sitting under a sign for my zone. I then walked to my car, paid the parking for three days ($51), and exited the grounds.
If you park in the garage, I suggest writing down the level on which you park. There were many people who were walking around the garage – hauling all of their luggage – trying to remember where they had parked three days earlier – myself included.
Conclusion
Cruise aficionados – especially those well acquainted with this ship – have stated that, despite a major refurbishing in 2008, Imagination is starting to show her age.
I, however, rather enjoyed my cruise and the service offered by Carnival. For the price and level of service, it is a great value. While I've seen occasional scorn for Carnival for a variety of reasons on cruise forums (such as too many kids or having older ships), none of those concerns came to fruition from my perspective. My wife and I had a memorable trip and agreed to sail on Imagination again in the future.
Your Turn
Have you sailed on Carnival Imagination? Tell me your thoughts in the comments below.