My Fun Fish Tank: A Review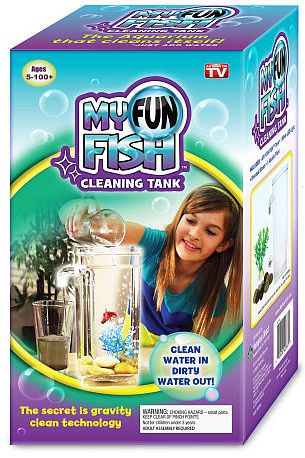 My Fun Fish Tank is a product advertised on television which is said to clean itself, making the fish hobby fun and easy for kids.
Sponsored Links




My Fun Fish Tank
This fish tank is advertised as an innovative way to maintain a fish tank. It uses "gravity clean" technology in which clean water is poured in the top, which pushes dirty water out from the bottom.
Cost and Availability
Purchasing this product online will cost $14.99 plus $6.95 shipping for a total cost of $21.94. In late 2014 a "Nighttime Tank Kit" has been added, which is offered for another $6.95 shipping, bringing the grand total to $28.89.
My Fun Fish Tank can be found in stores such as Toys R Us or Walmart for about $15. As of this writing, the Nighttime tank appears to only be available online.
Sponsored Links



Claims and Features
Cleans itself by simply adding water
"Gravity clean" technology
Easy for kids
No mess
Best for Betta fish
Holds a half gallon of water
4.5 x 4.5 x 10 inches
Keeps water clean and oxygenated
Includes LED light, 1 plant, riverbed stones
Reviews
My Fun Fish Tank is a tall plastic container with a tube that leads from the bottom, up and out the top. As dirty water settles to the bottom, new water can be added, which (in theory) will push the dirty water out of the tube, to be collected in a container and disposed of. The product is marketed as an easy way for kids to maintain a fish tank of their own.
Accolades and complaints surrounding My Fun Fish Tank focus on different elements of the product.
Those who praise the product focus on the ease at which it is set up and maintained. Many customers have stated that the product makes an attractive decoration, particularly when the LED light is illuminated.
Detractors of My Fun Fish Tank believe that it is too small to safely keep any type of fish. It has also been suggested that too frequent of water changes – which may be possible before the novelty wears off – can also be bad for fish. Another complaint is that the LED is battery operated and can lead to frequent battery changes if it is left on for extended periods.
A helpful hint is to keep something (such as a cup) under the valve to catch any extra water which may leak out after changing the water.
Epic Conclusion
My Fun Fish Tank is an easy to use self-cleaning tank marketed to children. The product has mixed reviews across the board. Some consumers feel that it is too small to keep fish, while others enjoy the relatively mess-free cleaning feature.
A nighttime version is currently available from the official website, but the standard version is readily available in stores, and is a much cheaper option should you choose to purchase this product.