Epilique Reviews: Does This Makeup Remover Work?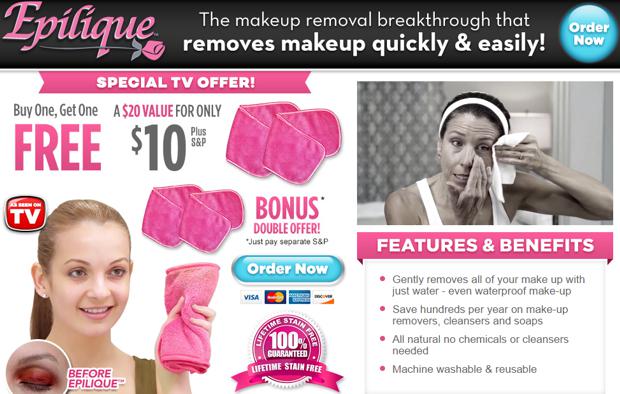 Sponsored Links




Review of Epilique, an As Seen on TV makeup removal product which claims to remove makeup quickly and easily.
Sponsored Links




Epilique
Epilique is a "makeup removal breakthrough" which is advertised as a way to remove makeup easily and without the use of cleansers or soaps. The product is essentially a makeup removal cloth, similar to other products which have been on the market for years.
Cost and Availability
The website epilique.com offers Epilque for $10 plus $7.95 shipping. You are required to double the offer for another $7.95 shipping. There is also a mysterious $2 "web surcharge fee" to all orders, bringing your total cost to $27.90. There is a 30 day money back guarantee, but only the $10 cost is refunded, not for the $17.90 you'll pay in shipping and surcharge fees.
Epilique is not yet available in stores.
Claims and Features
Wet, wipe, and clean
Machine washable and reusable
Removes all makeup with just water
Save hundreds per year in makeup removers
No chemicals or cleansers required
Thousands of fibers which cleanse and lift makeup
Exfoliates skin
"Erase" your makeup with just water
Removes even toughest waterproof makeup
Epilique Reviews
If the name Epilique sounds familiar, that's because a product called Epilique Hair Minimizer was advertised in limited runs in mid-2014. Although that product never made it into full production, the Epilique name has been recycled and is now applied to this makeup remover.
This version of Epilique appears to have only started advertising in limited availability in 2015. While the idea of a breakthrough makeup removal product is appealing to most consumers, Epilique must convince viewers that there is something special about this product. Our researchers asked the opinions of some viewers of the television commercial for Epilique, and they expressed concern that it may simply be an overpriced washcloth.
Sponsored Links



It should be noted that there are a wealth of highly-rated makeup "erasers" for sale online. If Epilique uses the same or similar materials as these popular products, it is safe to assume that consumer satisfaction will be positive for this product.
As Epilique is a new product, hands-on reviews for it are virtually nonexistent as of April 2015. We are attempting to secure one of these and will update this page as soon as we have put it to the test ourselves.
Epic Conclusion
Epilique is an As Seen on TV makeup remover which has only started advertising in early 2015. There appear to be no first-hand consumer reviews for the product as of this writing, although similar products are well-received by many online shoppers.
If you've used or ordered this product, please give it a star rating above and a comment below.